Online Management Console
The control of your display(s) will take place in the cloud. Computers, tablets and smartphones with an active internet connection can connect to the Online Management Console. You can then manage all layouts and additional media and other digital content to schedule on date, time and screen level. This allows you to always control your information screens and have real-time control of your external communication flow.
The Online Management Console has many modules that can be used freely, this makes PublicView suitable for many purposes.Have a look at all our available Modules.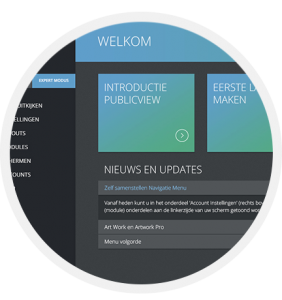 Select

your industry

below
See the various benefits of Public View.
For your company 
Fast and efficiënt
For your events
Live-streaming and informative
For your wholesale store
Customizable and increasing turnover
For hospitality
Clear and fun
For your hotel
Informative and service oriented
Broker or agent
Supporting and stimulating
For Medical purposes
Informative and friendly
For education
Entertaining and efficient
Public building
Up-to-date en service oriented
Theater, cinema, museum
Attracting and effective
For your supermarket
Increasing sales and provocative
Gym or fitness
Functional and fun
For your showroom
Effective and visual support
For your shoppingcenter
Informative and service-oriented
Your store
Friendly and up-to-date
Display connections
Every screen with a VGA or HDMI input can be used as a digital signage screen. The supplied Windows Pro Player provides a direct connection between the screen and the Management Console. We also provide software versions for LG WebOS and Philips D,P,Q & T-line Signage Solution displays.
We advise to connect the supplied Windows Pro Player wired to the Internet to avoid interference. WiFi connections can fluctuate due to external influences and the signal is often susceptible to interference.
If you do not have WiFi or an internet connection close to the desired screen location features, you can use an additional Sitecom Homeplug.
Multiple users
The PublicView software works with multiple users. However, you may not want all the settings to be accessible for each individual. Therefore PublicView is working with sub-users and even sub-sub-users. These users have limited options that you configure as an administrator in the Management Console, allowing you to maintain control over the content and make clear agreements with your employees about the operating procedures.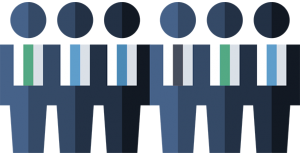 Design & Create
With the Screen Composer you can customize your existing layouts or design a new layout. You're free to shape the contents to your own style and desired look and feel. The Screen Composer helps you to replicate your own corporate look and feel!
The clever color management ensures that your corporate color settings are stored and carried over to new designs. By modeling your existing layouts with different pictures, you can quickly switch and customize your presentation with a few clicks. These features can save you a lot of time and effort.